Annapurna Ultra Race Nepal: Race details
Dear Competitor,
I have been involved as a Competitor, Race Director, and Course Director in many extreme ultra races around the world. In creating the Annapurna Ultra I take you to an area of the Himalayas that gives you" Up Close and Personal views" of some of the world's most famous mountains. I have created a course that will introduce you to another world, with amazing scenery, and the chance to involve yourself in the life of the mountain people of the Annapurna region.
I have been involved in events in the Sahara Desert of Morocco, Egypt, Iceland, Namibia, Vietnam, the Gobi Desert in China, the Atacama Desert in Chile, Mongolia, Antarctica,
Peru, previously in the Annapurna region of Nepal, the United Kingdom, and Switzerland, and I have been Race Director of the Commonwealth Ultra championships on several occasions.
In the Annapurna Ultra, my aim was to introduce you to stunning scenery in a fantastic and challenging environment, while experiencing the life of the Mountain people of the Annapurna region of Nepal, and helping them at the same time.
At the end of each day, we will be staying in local houses and lodges.
Each competitor will be supplied with a simple Breakfast of Porridge or local alternative each morning and in addition, each competitor must also supply and carry 350 Kcal of snacks, and energy bars each day, but you are also permitted to buy snacks, chocolate bars at local houses on the route.
You will need to bring with you a freeze-dried evening meal that can be prepared by adding the Hot Water supplied, the option to buy further food and drink exists at all locations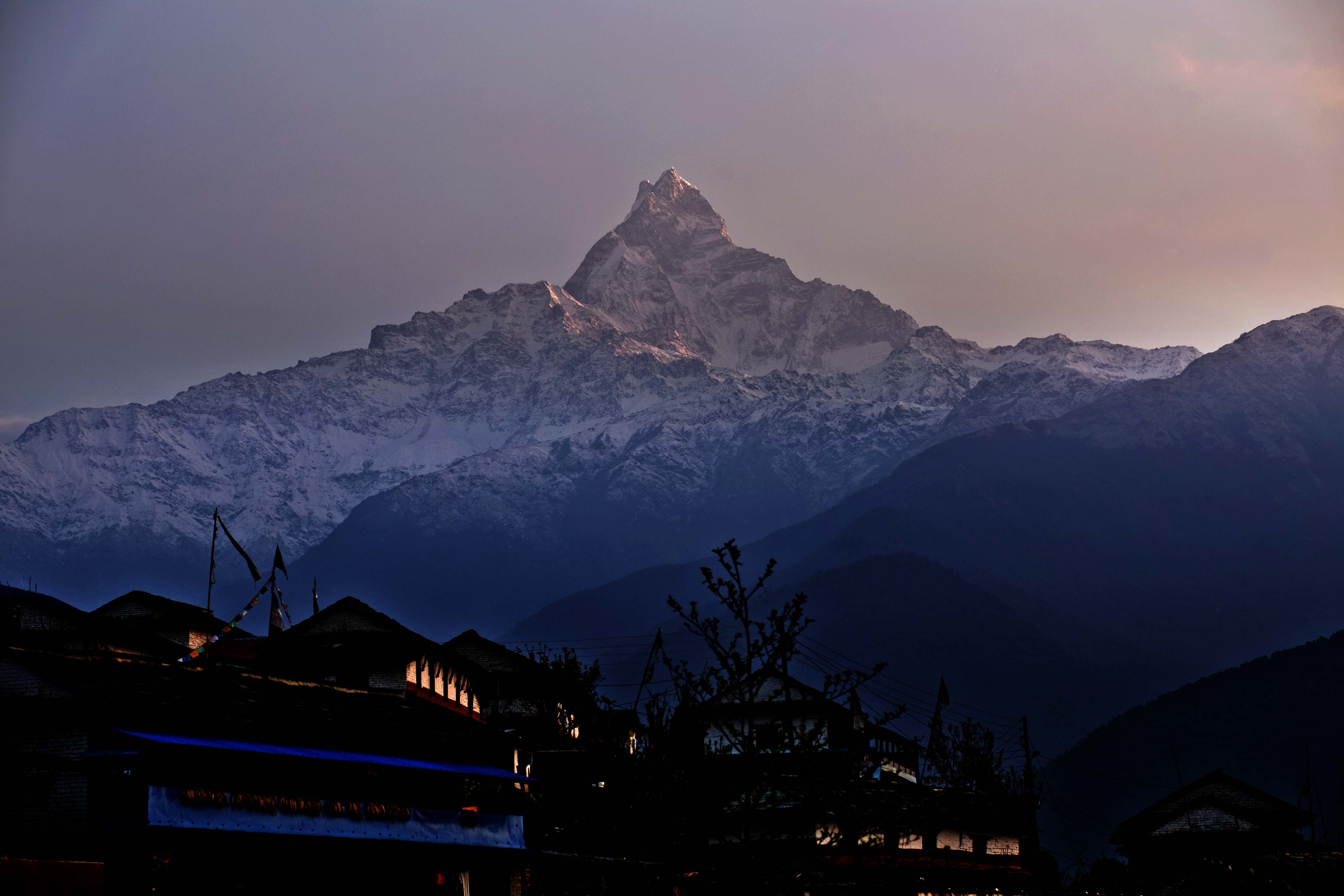 Including:
Himalayan tracks and trails

Gorge crossings by a footbridge

Rivers, valleys and Mountains

Amazing scenery

Local life

And of course the physical challenge of 220km

Demands of Self-Reliance by carrying your food and kit (see compulsory kit list )

Difficulties of stunning but varied terrain.

Mental Battle to Finish!
Having been to many other landscapes and countries I'd previously set courses in many countries including Fire + Ice ultra in the Iceland, the Himalayas was clearly a special choice, with stunning trails, breath-taking scenery, and the chance to interact with the local Mountain people of the Annapurna region, this makes an amazing place for an event like the Annapurna Ultra.
You will be seeing up close and personal some of the world's biggest and most iconic mountains. Fantastic trails, with stunning scenery and the opportunity to mix with and experience the life of the Himalayan mountain people of the Annapurna region.
By taking part we are helping the local economy and our event medics will also be assisting the young children on the route, normally unable or cannot afford to travel for simple medical assistance.
Dave Annandale
Race Director

This is what some of our competitors say about our events:

"Hard, but well worth the pain"

"I would just like to thank you for putting together such an incredible experience. You can really see you put a lot of thought into the course, I especially liked the little detours through rocky canyons. Anyway, thanks for all the hard work you and your team put in, my feet have nearly healed."
"Amazing, what a place."

"I've done a few other multi-day races but this is in another league. Thanks so much for organising it.

This experience has changed my life, what a fantastic way to see Nepal
I have put together an incredible course, with an amazing experience, but YOU have to earn that. It can be completed by anyone with the right attitude, training and commitment. All runners and walkers are welcome and we do have cut of times but they are very generous. All abilities and experience levels can take on this challenge.
The Annapurna Ultra provides an experience that will live with you forever, with amazing terrain and landscape. combined with the opportunity to see the life and world of the Mountain people from Nepal's Annapurna region.
Your Race Package Includes an incredible route, planned over many months to give you the most challenging route whilst also taking in some of the most spectacular parts of the Annapurna region of Nepal. Our Course Director is Karma Sherpa, ( 5 time summiteer of Everest )
As a Nepalese Sherpa who has been travelling in this area since being a young boy, he know all the trails in this area and has worked hard to mark it a course to remember.
Program Details for 2024 are:
Saturday 23rd March
Competitors arrive at Race HQ in Pokhara by 5pm, Bed in Hotel with Breakfast
( a Shared room ) provided
Kit checks, Medical reviews, race paperwork on Saturday evening
Sunday 24th March 2024
Depart for Base Camp in a village in the Annapurna Mountains
Scenic drive with stunning mountain views
Evening meal of local food supplied.
.
Some of the competitors in the late start on the Final day
Each competitor must carry an Evening meal that can be prepared with Hot water, ( you can supplement these meals each evening with private purchase from the Houses and lodges we stay in ) you must also carry a minimum of 350 Kcal worth of Energy bars, snacks each day, these must be carried from the Start.
In addition, competitors CAN purchase, drinks, chocolate bars, snacks etc
( NOT MEALS OR ALCOHOL ) at any house or lodge on route.
This format is designed so that the event supports the local economy, for some local people the profit from selling a few Mars Bars and a couple of drinks, makes a big difference.
Monday 25th March to Friday 29th March 2024 ( Good Friday )
The event takes you along small roads and trails, through valleys over mountains and small roads that give you great views of the Dhaulagiri mountain range, at 8167 metres, over the mountain through the Ghorepani village, and very close to Poon Hill, with some of the most famous views in the Himalayas with spectacular views of Annapurna South 7219 metres, Annapurna I – 8091 metres and many other famous and spectacular mountains.
Saturday 30th March 2024
After descending from the hills above Pokhara, to finish in the Town, just a few hundred metres from the Hotel that acts as Race HQ, refreshments will be waiting and in the evening we will have a presentation dinner, event slide and film show back in Pokhara.
(Note : Course details can change due to weather and other conditions beyond our control.)

Fully marked course
Our course team mark out the complete route for you to follow with RED Flags and RED tape, or RED marks on the rocks
Base Camp
At the end of each day, you will be allocated a room in a local house or lodge, rooms are on a shared basis only.
4WD transport to the start
(5 to 6hr drive due to lack of good roads) however we make a couple of "Tourist" stops on the way,
Accommodation will be in the centre of Pokhara
Accommodation with Breakfast included at the Race HQ hotel in Pokhara on Saturday23rd March 2024
Accommodation, with evening celebration and presentation meal, with Breakfast included for Saturday 30th March 2024.
Most important
A highly qualified and experienced course team of ex-ultra-racers, Local Sherpas, and very keen volunteers and medical professionals are on hand to support you on your challenge.
4WD vehicles on the course each day,
Checkpoints, Medics, Course team, Camp team. all to make sure that the event goes smoothly.
Saturday evening celebration meal
To include a Slideshow / short Film clip of the event

Presentation of trophies/plaques to placed competitors and winning Country

Medals / Buckles for all finishers

Breakfast on Sunday morning included

Supplement due for those requiring Private or Twin accommodation in apartments – If available,

Packed lunch for the journey to base camp

Cold and Hot water for Food at camp morning and evening

All starters receive a quality event top
A challenge that will push you to your limits.
In an area that has some of the world's largest and most Iconic mountains and scenery, and an opportunity to see and experience local life in the Annapurna mountains of Nepal.
The Annapurna Ultra in 2024
We provide this incredible experience for £2400
Complete the form to reserve your place in the Annapurna Ultra
ANNAPURNA ULTRA - COMPULSORY KIT LIST
Most backpacks will weigh between 6.0 kg ( exc water ) and 12 kg depending on kit choices made.
Backpack / Rucksack, capable of carrying all compulsory equipment, food and other items you wish to carry, cameras etc.

Sleeping bag, with or without liner, capable of withstanding nighttime temperatures of 0 degrees.

Sleeping Mat, not compulsory, but soft mattress not guaranteed at accommodation, in previous years not needed.

Dry Bag. ( combined with compression sack is advisable )

Head torch AND emergency light, normal conditions for this time of year suggest they will not get much use, however bad weather conditions, extend the short period of darkness, mainly expected to be used for the long stage, and going to the bathroom etc.

12 x Safety Pins for number (plus spares for other use). Your numbers MUST not be altered in size, and the whole number secured plainly visible on the front.

Small knife or multitool.

Survival BAG, NOT a sheet and it must be a bag you can get inside, with your clothes on if necessary.

Small flashing " RED " light, to fit on the back of a backpack in darkness. (mostly expected for the long stage)

Sunscreen, waterproof type suggested.

Lip balm lots of choice.

Medical kit, with special provision for Blisters, see separate list for Medical kit AND Blister kit contents.

Tissues / Wet wipes.

Hand cleaner, alcohol gel, keep those stomach upsets at bay.

T shirt Long or short sleeve, must be quick dry material.

Waterproof jacket and trousers, with taped seams AND with a minimum material specification of 10,000 hydrostatic Head.

Warm mid layer, lightweight down sweater or similar, for use on a cold day, or at the camp in the evening

Shorts and tights, anyone using shorts during the day , must also bring long tights or leggings, for cold days or for evenings

Hat 1: A hat suitable for protecting head and neck against the sun.

Hat 2: For warmth during cold evenings.

Shoes, trail running shoes, for events of this type it is normal to use shoes at least 1 size bigger than normal, to allow for swelling, blisters etc, remember your feet swell sideways not just lengthways, so consider a shoe with a slightly wider fitting.

Socks, your feet may get wet from time to time, minimum of 2 pairs of socks required, more if you wish to.

Lightweight, warm gloves.

Sunglasses with UV protection

Food and nutrition, Simple Breakfast is supplied, normally Porridge or local equivalent, competitors can buy extra if they wish. Competitors need to carry an Evening meal that can be prepared with Hot Water and competitors must carry an equivalent of 350 Kcal per day of Energy bars, snacks and IT IS PERMITTED to buy chocolate, snacks and drinks en route, but Not Alcohol or full meals

Hydration system, water bottles, Platypus etc, you must have the capacity to carry a minimum of 2 litres, and you must leave each CP with a minimum of 1.5 litres.

Plus whatever you wish to carry, camera, extra food, gaiters, ipod etc.
SEE YOU IN NEPAL