Kahtoola Microspikes Red: Hiking Footwear Accessories
HIKE • TREK • EXPLORE
New Lighter and Tougher design
Lighter and tougher, the new MICROspikes® deliver unrivaled traction on icy winter trails. MICROspikes® traction is tough enough to handle any adventure with stainless steel spikes and welded chains. MICROspikes® now feature an integrated toe bale and reinforced eyelets allowing for a 50% lower profile elastomer harness.
A Tote Sack is now included with each pair of MICROspikes®!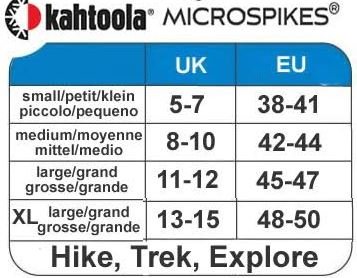 Now
£57.99
£69.99
Save £12.00
SPIKES & CHAINS
The MICROspikes® feature 12 spikes per foot, with 8 spikes at the forefoot and 4 spikes at the heel. Each spike is 3/4″ long, and the spikes are made from heat-treated stainless steel for excellent durability and corrosion resistance. The independent layout of the spikes helps prevent snow from balling up. Kahtoola's crampons are created to provide great traction across slippery surfaces.
Chains and links are also made from stainless steel, and the chains are welded, even further increasing durability. These hold our crampons and ice spikes in place firmly.
Reinforced eyelets
With extreme durability as our goal, Kahtoola has developed patent-pending reinforced eyelet technology that allows our elastomer bands to be lighter and stronger than ever. The elastomer band's main body is comprised of stretchy Thermoplastic Elastomer (TPE) for a quick and secure fit on a variety of footwear, while the durable Thermoplastic Polyurethane (TPU) eyelet inserts prevent tearing and improve longevity. Our crampons can fit on almost every shoe.
Packability
MICROspikes® pack down to roughly 5″ x 3″ x 2″ in their included tote sack and weigh between 11 and 14 ounces per pair. They easily fit into a pocket or pack, making them convenient to take on any winter adventure.


UK shoe sizes above, the final choice may vary depending on the thickness of your shoe or boot


Existing Reviews (0.00/5)
Product Specific FAQs
Delivery & Tracking
When will it be delivered?
We aim to ship all orders that we receive by 3 pm UK time between Monday to Friday

---
How are your items sent
Our main UK Shipping option is with Royal Mail Tracked service
( In some circumstances we may use other carriers, depending on the destination and product )

---
Is there tracking on my order?
Yes, tracking numbers are sent when the order despatch confirmation is sent, and they have a link to your tracking service
Tracking usually comes live during the evening of the day of despatch of your order

---
Do you ship outside of the UK
Yes we do.
Overseas shipping will vary depending on location, weight, and service available.
Delivery times for overseas orders can vary considerably depending on location, please get in touch if
you need details of delivery options by emailing
[email protected]
and giving us your address,
including country and Post or Zip code
---